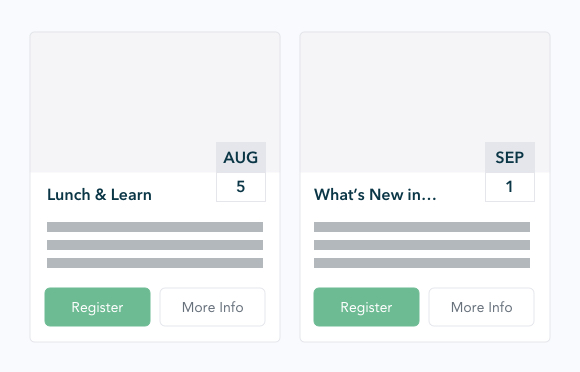 Integrated Events
In-person and virtual events in a familiar experience. Keep your learners right where you want them, on your university-branded and controlled PeopleGrove site.
Keeping Your Community Connected
Group identity is created and forged in group gatherings, be those virtual or in-person. PeopleGrove helps your group gather.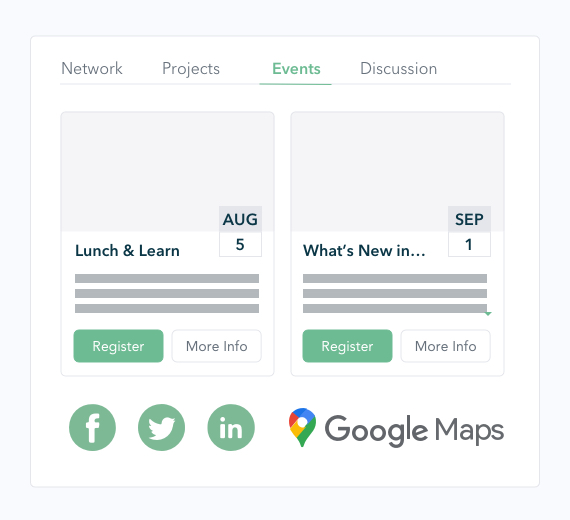 Centralized Access
Promote events with custom imagery, Google Maps integration, social sharing widgets, and automated confirmation and reminder emails, all right in PeopleGrove.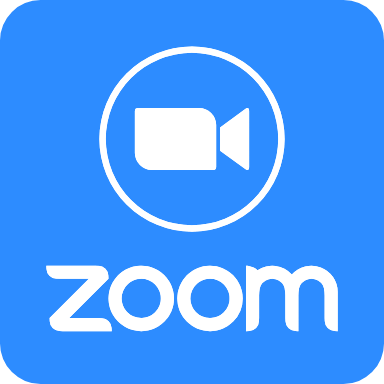 Zoom Integrated
Whether you're hosting small-group info sessions with Zoom Meetings, or large-scale seminars with Zoom Webinars, PeopleGrove Events simplifies registration and attendance data tracking with our no-cost Zoom integration.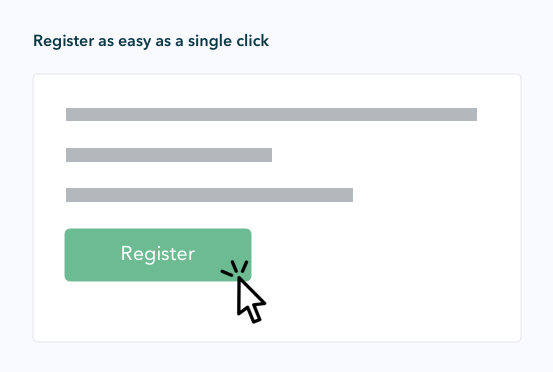 Simplified Registration
Your learners won't need to enter in multiple fields of information when registering for an event—it's already inside PeopleGrove. Those who haven't completed full site registration can register with a simple name and email, enjoy the event, and complete a full profile later.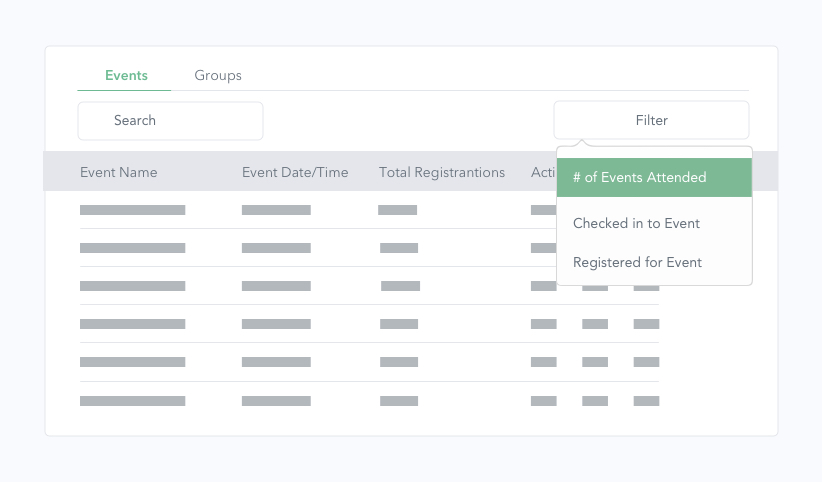 Instant Reporting
Centralized event management doesn't only make event discovery easier for learners, it also makes data management and reporting more powerful for you. Attendance data is immediately available inside your CRM. PeopleGrove can also alert your fundraisers immediately when important donors attend events.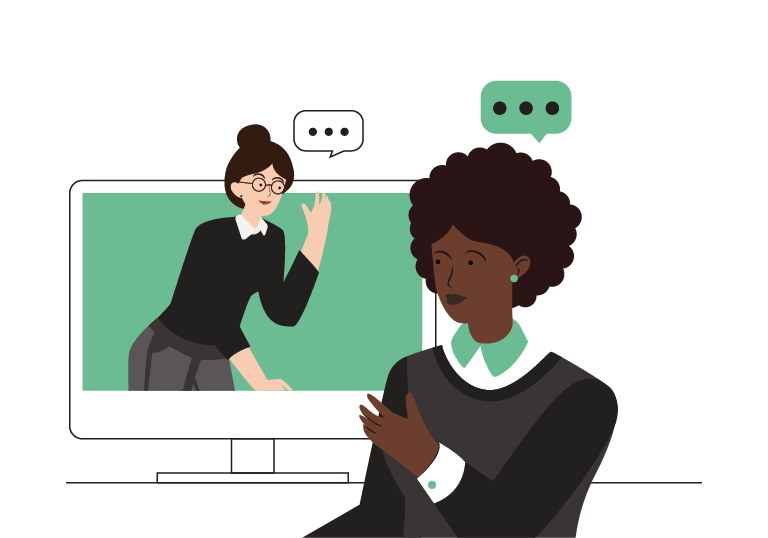 In-Person or Virtual
Bring your community together no matter where they are. On-campus? Great! Around the world? No problem! Custom integrations with Zoom and Brazen Virtual Events bring everyone together, giving you the best of both worlds.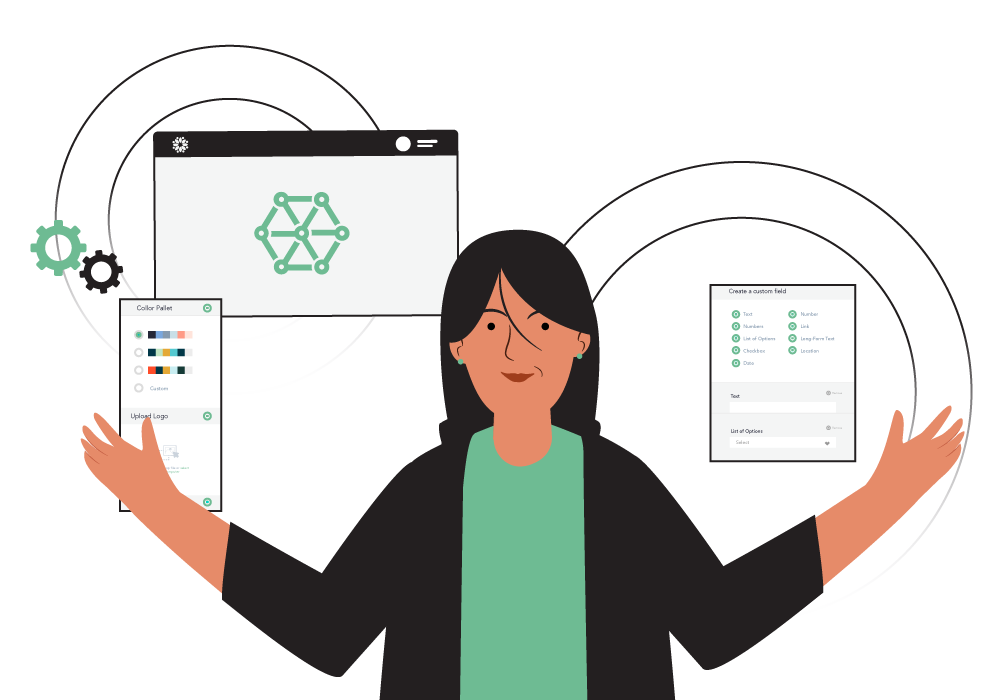 Options for Days
Will your event be public or private? Will it be visible to all learners or to just alumni? Will registration occur in PeopleGrove or on an external tool? Want to set a registration limit? Associate your event with a group? There's almost no end to the configuration options available to you.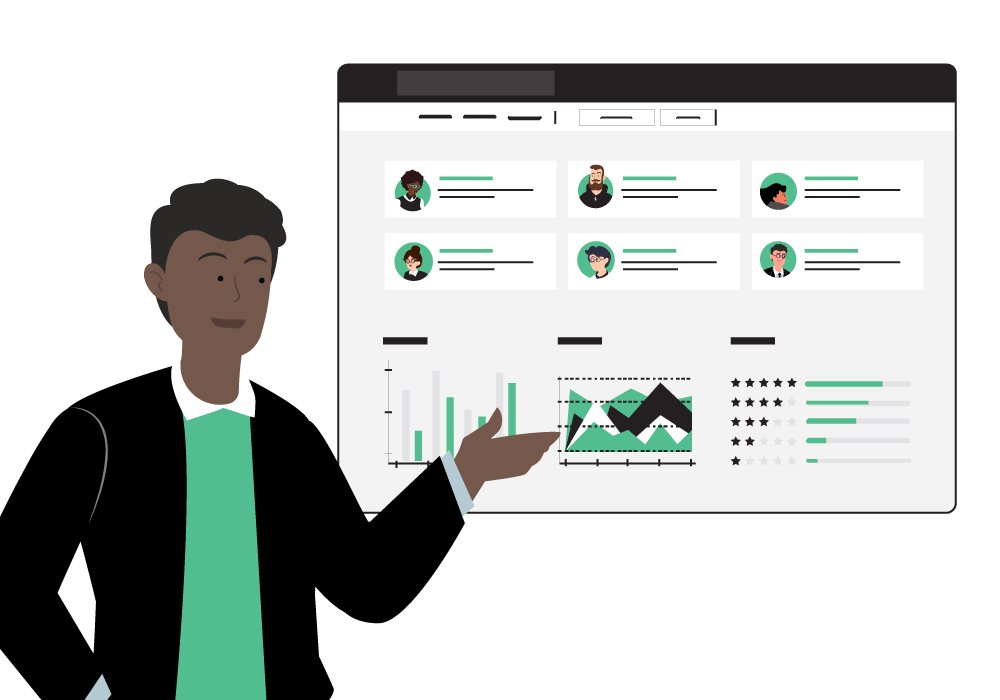 Ready for Showtime
Insert unique custom questions into the registration process. Identify whether they'll be bringing a guest. Require and accept payments with Stripe. Manage attendance with live check-in controls. In short: run your event like a pro, while keeping your community on a single platform.
Universities managing their in-person and virtual events with PeopleGrove include:



Product Tour
Events are only one way of bringing your community together. Take a complete tour to see the bigger picture.
Schedule a Demo
You've got the people. We've got the platform. Let's explore how we could bring them together.